Relationships and Sex Education was once a subject which could cause controversy for some. Fortunately, times have moved on and Relationships and Sex Education or RSE (or sometimes referred to as Sex and Relationships Education or SRE) has a strong evidence base, wide support from parents, students and teachers and now the current Government have passed into legislation RSE being mandatory in all Primary and Secondary schools from 2019. This view is supported by a range of religious and secular organisations (including Church of England and the Catholic Church).
A recent international Cochrane Study suggests that when pupils receive lessons on sex and relationships, disclosures about abuse and exploitation increase significantly.
Recent surveys involving 15,000 British adults suggest that those who cite school lessons as their main source of sex and relationships education were less likely to have had first intercourse before age 16 and say that both partners were consenting. A series of international studies show that school lessons reduce unplanned pregnancy rates. In short, RSE works when done well.
In March 2017, the Government took historic steps towards changing the status of PSHE through amendments to the 'Children and Social Work Bill'. Excellent, high quality PSHE and SRE is what most parents, teachers and students want to happen. Delivering high quality PSHE and SRE ensures that schools and educational establishments fulfil their duty to:
promote wellbeing;
promote spiritual, moral, cultural, mental & physical development of pupils;
prepare pupils for the opportunities, responsibilities and experiences of later life
Relationships education will be statutory on the curriculum in all Primary schools from September 2019 and 'relationships and sex education' in all secondary schools. The Bill also gives the Government power to make PSHE statutory it its entirety, dependent on consultation outcome. Evidence to support Relationships and Sex Education suggests that young people who have good RSE/SRE are more likely to report abuse and more likely to choose to have sex for the first time at a later date. There is no evidence that RSE/SRE hastens the first experience of sex. 
In terms of sexual and relationships health amongst Teenagers in Torbay, the latest health needs assessment of the population was published in June 2017. Great progress has been made since the 1999-2011 Teenage Pregnancy strategy. Torbay historically had high rates or teenage conceptions. These have since dropped to an all time-low of 22.9 per 1000 in 2016. This is in line with the South West and England averages. For more information and facts and figures try the local Health Needs Assessment or the Public Health England 'fingertips' site to compare a range of different data.
Young people bear the burden of poor sexual health outcomes in Torbay - RSE is a critical component when working to reduce these poor outcomes throughout the life course.
Proportion of new STIs by sex and gender in Torbay 2015/16 (taken from Sexual Health Needs Assessment 2017).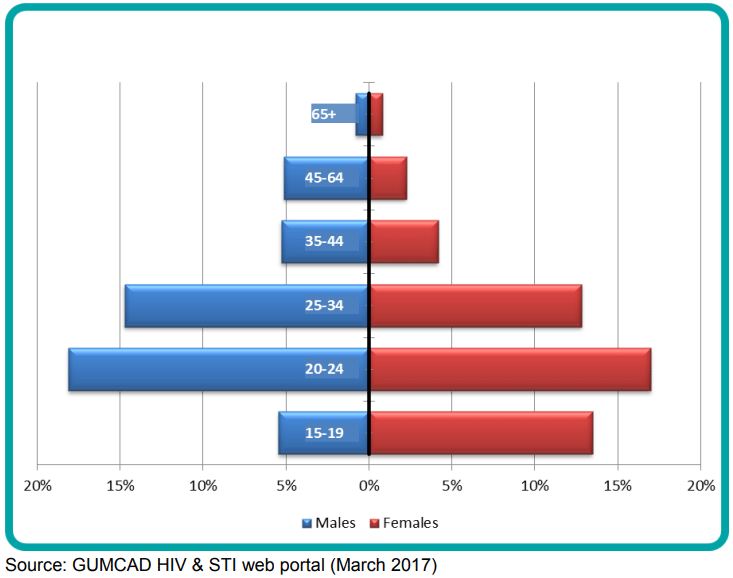 RSE is more than just sexual and reproductive health - it is about relationships education, consent, spotting the signs of abuse or coercion, managing feelings, exploring values and managing the normal and natural changes and developments throughout puberty into adult life.