Evidence clearly identifies the impact of trauma on children and highlights children who are exposed to parental conflict can suffer long-term harm affecting emotional and social development, mental health, educational attainment, relationships, and employability.
The Reducing Parental Conflict Programme has been introduced nationally through a DWP Change programme to support families experiencing Parental Conflict. The focus is on supporting parents and carers who are in a relationship or separated. This includes foster carers, adoptive parents, step-parents, same-sex parents, single parents in conflict with another adult in the family, for example, a grandparent, separated/divorced parents.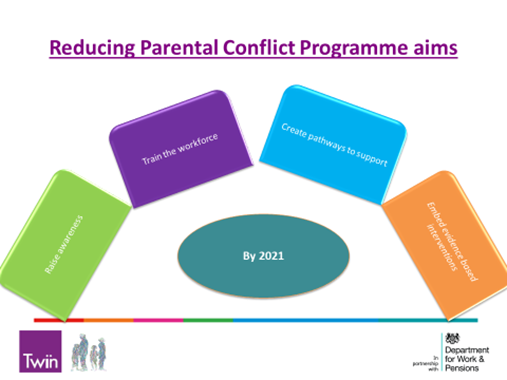 Professional training
Free multi-agency training for practitioners and managers in February and March 2020.
Tor Hill House  4th Floor South
10th February 2020 Modules 2 and 3
26th February 2020 Modules 1 and 4
9th March 2020 Modules 2 and 3
18th March 2020 Modules 2 and 3
24th March 2020 Modules 1 and 4
Module 1 (1/2 day)
Introduces parental conflict and the evidence base. It focuses on the impact of parental conflict on children's outcomes.
Modules 2 and 3 (Full day)
Module 2 and Module 3 explore how to recognise parental conflict, and introduce evidence based practical tools to support frontline practitioners engage with those experiencing conflict.
Module 4 (1/2 day)
Module 4 is aimed at supervisors and managers to support frontline practitioners working with parents in conflict. 
Attending any of the classroom-based modules provides access to all four modules online via eLearning.
Email tania.davies@torbay.gov.uk to book a place.